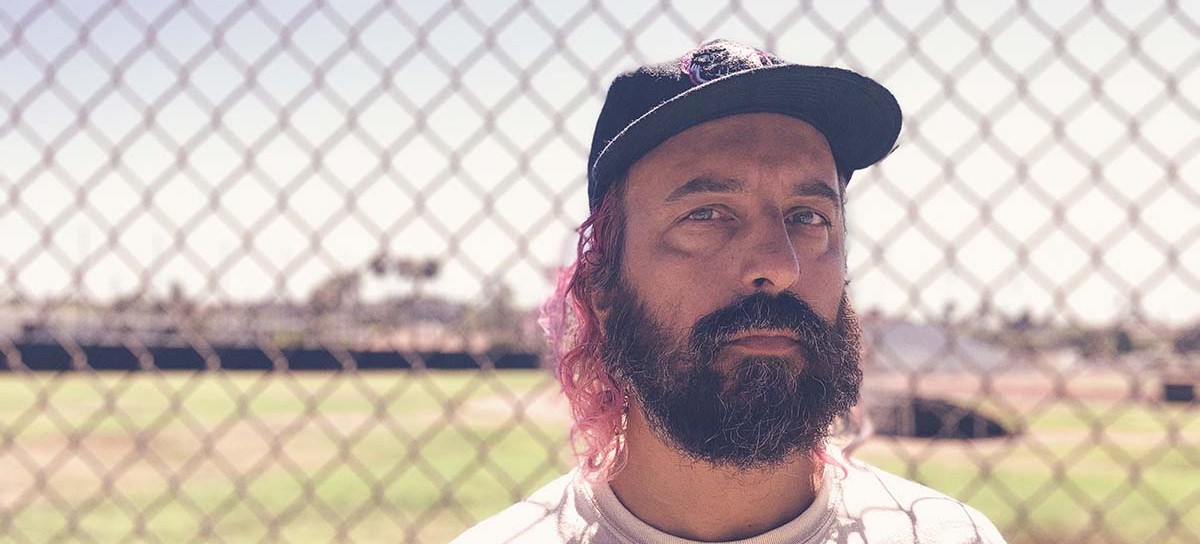 Herman Dune
In 2022, David Ivar will release a new HERMAN DUNE album. An acoustic anthology, it will be called THE PORTABLE HERMAN DUNE, for which 22 years of songwriting are made bare, to their most intimate backbone. The songs are sonically naked, but bundled in emotion and loaded with life. he album was recorded in Ivar's studio of San Pedro, California, SANTA CRUZ RECORDS, where he produced all Herman Dune albums since 2012. Center stage are his 1954 guitar, his 1930s mandolin and his voice, with exceptional guests: Julie Doiron, Mayon, Caitlin Rose, Jolie Holland and Kimya Dawson for a vocal counterpoint. Ivar will resume touring for The Portable Herman Dune (Breaking News!)
David Ivar started Herman Düne at the end of the XXth Century, in Paris, at a time when singing in English there, Folk Music, Country Songs, or Blues tunes, was deemed absurd by the music industry ever so obsessed with the French Touch and Electronic Music. Without a "scene" to perform, he had to create one, hosting for years Folk Nights in the basement of the POP IN that would soon become a staple of Parisian Night Life, with people performing folk songs, poetry in English after which Ivar would DJ a mix of Folk, Country, Garage Rock, or R&B (Classic Spins were Bob Dylan, Chuck Berry, Dolly Parton, Otis Redding, Ray Charles, Elizabeth Cotton, Bill Withers, Willie Nelson, The Velvet Underground or Nick Drake).
Herman Düne's first album TURN OFF THE LIGHT came out more than 20 years ago on PROHIBITED RECORDS/ATMOSPHÉRIQUES with a line-up of three David Ivar, his brother André and drummer Omé. With the support of Legendary UK DJ John Peel (Herman Dune would eventually record 10 sessions for him), they toured Europe intensively and 42 American States. André stayed with Herman Düne until 2006, and Neman until 2011.
David Ivar published records internationally on British labels (TRACK & FIELD, VIRGIN, FORTUNA POP), American labels (EVERLOVING, SHRIMPER) and French labels (PIAS, GUM, SOURCE ETC, EMI)
GIANT is probably his most recognized album, released in 2006, with a lush and live production of Horns (with Jon Natchez of War On Drugs and Kelly Pratt of Father John Misty) and powerful feminine backing vocals by The Angels Choir
After moving to the United States Ivar's live band included Kyle McNeill, Maesa Pullman, Lewis Pullman and Jason Hiller (The band on SWEET THURSDAY), but mostly he would perform SOLO, with acoustic guitar and mandolin.
Herman Düne performed prestigious venues such as L'Olympia in Paris or The Scala in London, from Sweden (Ivar has Swedish citizenships) to Andalusia, festivals like GREEN MAN, BENICASSIM or LES VIEILLES CHARRUES, selling out venues in New York City, San Francisco or Montréal. Ivar has arranged a complete rendition of SHOT OF LOVE by Bob Dylan, for a special concert on the icon's 70th birthday that was performed at Paris' CITE DE LA MUSIQUE PHILHARMONIE
In the Aught years of our century, Ivar had also created and curated (with Benoît Rousseau) the MOFO FESTIVAL in Paris, where hard to catch acts would make a point to stop like Will Oldham, Daniel Johnston, The Mountain Goats, Lou Barlow, The Moldy Peaches, or The Silver Jews.
Since 2015, Ivar has lived in San Pedro, California, the Port of LOS ANGELES, with his partner (artist MAYON HANANIA) and three black cats. There he started his own label SANTA CRUZ RECORDS, with his own studio where he recorded movie soundtracks (Blockbuster, Petaouchnok and more) and Herman Dune albums: SWEET THURSDAY 2016, SANTA CRUZ GOLD 2018, NOTES FROM VINEGAR HILL 2020 and now THE PORTABLE HERMAN DUNE.
For THE PORTABLE HERMAN DUNE, Ivar will go back on the road exceptionally, he hasn't toured in Europe since 2015. All shows will be solo performances in unique places, for memorable nights.
David Ivar was always the artist behind the artwork of HERMAN DUNE (remember the 2005 Herman Dune T-Shirt craze?), and has followed a parallel visual path and a career as an artist . His works, drawings and paintings have been shown from GALERIE AGNÈS B. in PARIS to CINDERS GALLERY in New York City, in contemporary Art Fairs such as FIAC in PARIS and ART BASEL in Miami, in galleries such as NIVET-CARZON and 0FR with which he still currently works, in institutions such as ARTHOTÈQUE in CAEN or the TRIENNALE BOVISE in Milan. He shows his work in LOS ANGELES, drawing, painting and sculptures (LA LUZ DE JESUS, SMALL WORLD BOOKS) and has a daily comic strip (4-panel classic format ala Peanuts or Garfield) published every day on INSTAGRAM and called YAYATHON MAN. A Comic Diary where Yayathon Man is Ivar's avatar and lives with Lil Mayo and the black cat Inspecteur Morrison. There are even Yayathon Man toys (Art-Toy/Sofubi) that were presented at the Designer Con in Anaheim California, VINYL toys, of course. Ivar has collaborated with San Pedro's Random Lengths, Charles Bukowski's avowed favorite read (Bukowski lived in San Pedro, incidentally on the street where Santa Cruz Records now is)