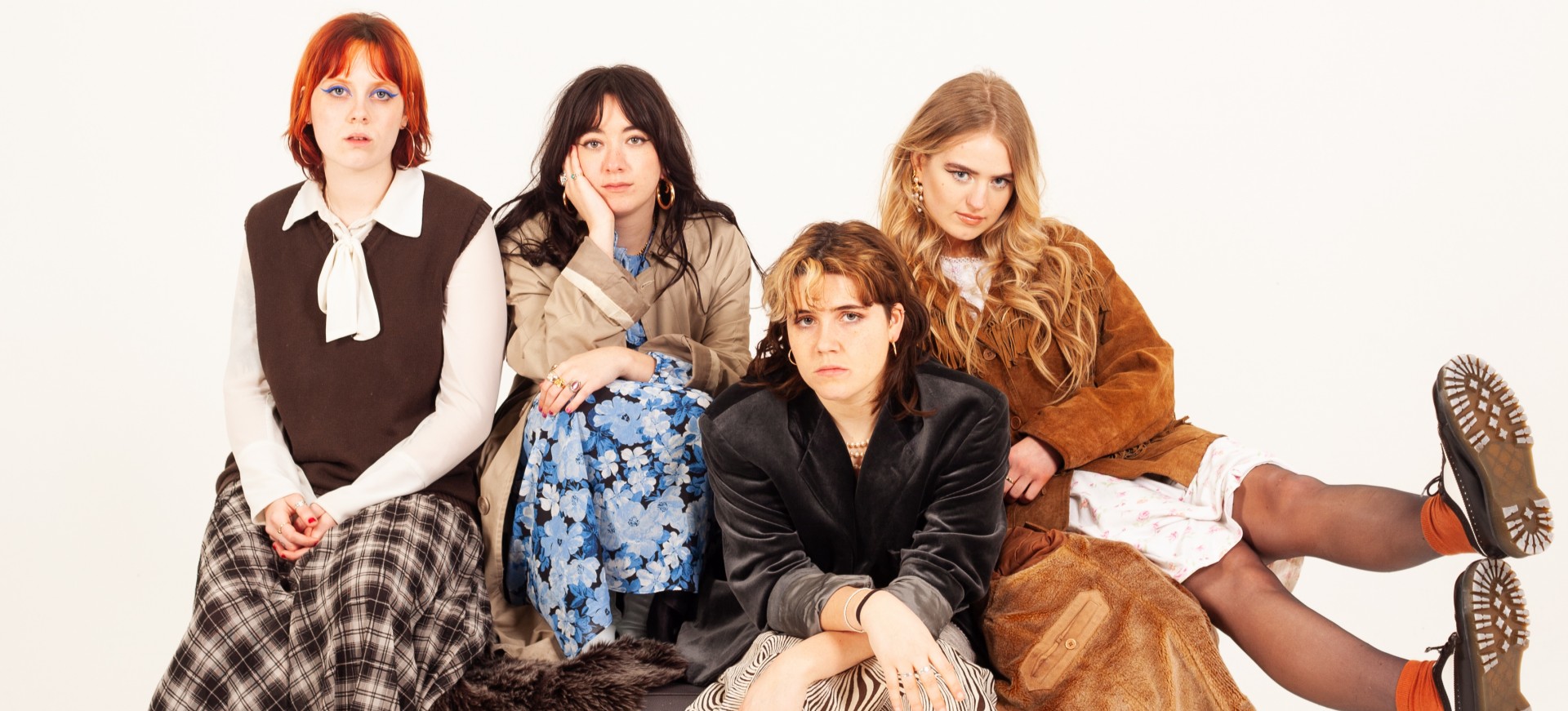 Lime Garden
Lime Garden are a four-piece band jumping over genre boundaries to create a sound that is uplifting yet somehow laid-back. They achieve this neat trick by harnessing catchy melodies and earworm hooks into an almost nonchalant net of lo-fi sounds, which is then sprinkled with a dry-wit to bring their world to life. It's a world of late-night conversations and observations that strike a chord. The band came together via a twist of fate when Chloe Howard and Annabel Whittle, friends on social media, found out they'd just enrolled at the same college. Here they met Leila Deeley and the three bonded over a love of Talking Heads, the lyrics of Courtney Barnett and the flourishing UK underground gigging scene, along with note taking trips to gigs at the Boileroom in Guildford.
With college life done and dusted, the bright lights of Brighton beckoned for Leila and Annabel, which is where the fourth and final member Tippi Morgan fell into the equation yet again but chance. Having coaxed Chloe down to the south coast the line-up was complete.
With an infectious and ever-changing energy that pervades throughout their songs, artwork, and videos, the band have started to develop a similarly enthusiastic response. Having gate-crashed the BBC Radio 6 Music playlist with their self-released debut 'Surf N Turf', a second self-released track 'Fever' then found its way onto a Future Artists slot on Annie Mac's Radio 1 show. With the world on pause, they still managed to keep up the momentum with live streamed shows and their next Brighton headline show selling out six months in advance. This progress brought the band to the attention of the always ahead of the curve So Young Records, through which they've released Sick & Tired / Pulp, recorded in the warm glow of Echo Zoo Studios in Eastbourne. Lead track 'Sick & Tired' floats along on a seductive lo-fi groove that underpins the confessional thoughts of an early 20 something's view on going into adulthood. Howard adds: "Although the lyrics are a little melancholic, the realisation is that we have to keep hoping for the best - that's why we wanted the track to feel uplifting even though it's about being stuck in a rut." Cascading with the band's signature kaleidoscopic vocals and effervescent soundscape, Lime Garden continue to unveil pop gems.