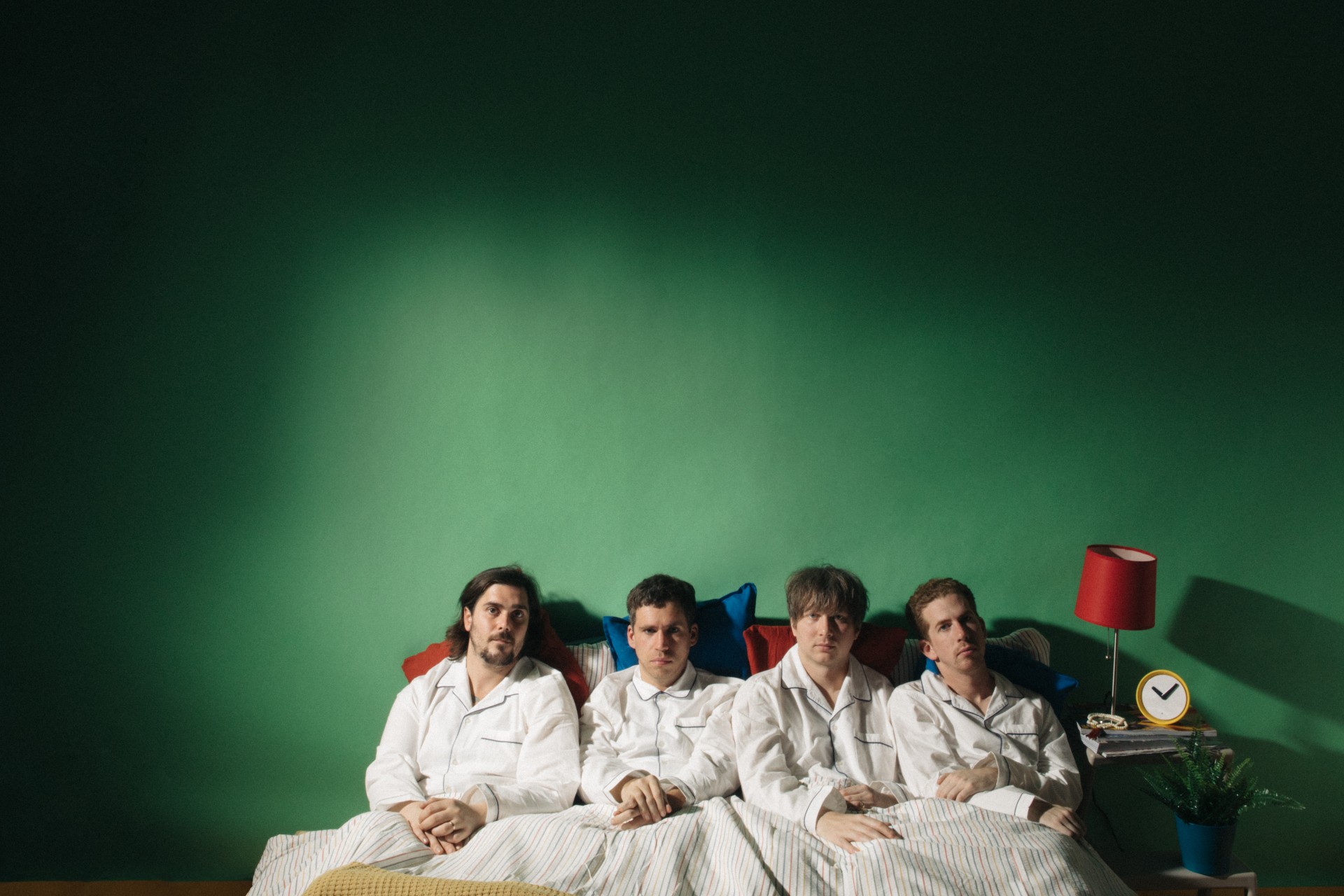 Parquet Courts
Parquet Courts began their 2014 release Content Nausea with the repeated refrain, "everyday it starts – anxiety!" And while that track left off at just its start, Human Performance dives in, picking apart the anxieties of modern life with the band's most innovative and emotional collection of songs to date. Not that that's the whole story.
"The final product of this album is Exhibit A that we made it through the shit, solved the problem, had the chuckle, took the piss, made up with the other guy, and got home in one piece," laughs bassist Sean Yeaton.
Whereas other Parquets Courts albums were recorded in a matter of days or weeks, for Human Performance the band took an entire year; it's the first LP that finds all four band members contributing songs.
Human Performance brings expansive sonic experimentation and shining melodic introspection onto matters of the heart, matters of humanity, of identity. "I told you I loved you, did I even deserve it when you returned it?" singer/guitarist Andrew Savage wonders on the title track. It's also their most pop-oriented collection yet, coming only months after the release of the largely instrumental Monastic Living EP; a record that was actually made at the same time.
"In a way, Monastic Living was like a palate cleanser for us as a band," explains singer/guitarist Austin Brown, who produced the entire record, and mixed it in Austin at Jim Eno's Public Hi-Fi, "maybe a return to our roots of improvising together, and being a bit more free, and seeing what kind of new sounds we could make."
The recording sessions started at Justin Pizzoferrato's Sonelab in Western Massachusetts. Some of it was also made with Tom Schick and Jeff Tweedy at The Loft, Wilco's visionary studio in Chicago, but the majority of Human Performance was made at Dreamland Studios, a massive upstate NY pentecostal church where records have been made by The Breeders, Dinosaur Jr, and the B-52s (including "Love Shack"). They spent three weeks straight there, writing by day and recording with Pizzoferrato by night.
The result is a record with a palpable sense of fragility. "The process of writing and recording Human Performance, for me, was a fairly uncomfortable confrontation with my emotions," Savage says. "Emotions I don't think I've fully explored in my life, artistic or otherwise."
Human Performance is fittingly laced with as much static as softness, with tight-wound percussion pushing along meandering, wistful melodies. There are dazed and disoriented earworms, echoing group chants, downtempo ballads with wired riffs. Lovers leave, existential confusion replaces them, weeks pass, the J train rolls by.
The record leads with "Dust", a 4-minute opener that takes the mundane daily duty of sweeping the floor and turns it into a frantic, obsessive call for action. "Dust is everywhere … Sweep!" they drolly repeat, before their cyclic back beat gives way to explosive, everyday city sound of car horns.
Savage says "Human Performance" is his most personal song on the record, a solemn musing on love drifting away, a picture-perfect memory of the beginning of things and a hazier recollection of the ending. "It didn't feel right to be shouting, barking," he says, reflecting on his tendency to really sing for this first time on this album. "I think a lot of people are attracted to a sort of cerebral side of Parquet Courts, in the lyricism. There has always been the emotional side of our band, which I think has always been an important balance, but Human Performance marks a point where the scales have tipped. I began to question my humanity, and if it was always as sincere as I thought, or if it was a performance. I felt like a malfunctioning apparatus. Like a machine programmed to be human showing signs of defect."
Across six years, four full-length albums, and two EPs, Parquet Courts have always littered their lyric sheets with question marks, interrogating the outside world to varying degrees. Light Up Gold considered peanuts versus Swedish Fish, an introduction of their sharp, young wit and language of mundane, everyday NYC imagery. Sunbathing Animal channeled that language into noisy punk philosophy, raising wide-view questions about agency versus captivity, choice versus freewill. Content Nausea wondered about anxiety and emotional deterioration under the age of big data, in an aptly self-aware way: "And am I under some spell? And do my thoughts belong to me? Or just some slogan I ingested to save time?" And with Human Performance—their fifth album and second for Rough Trade—the question marks get turned on themselves more than ever.
"There is a lot of darkness, and general anguish being worked out on this record," Brown adds. "But it ends kind of peacefully, kind of accepting that you can't do much about it."