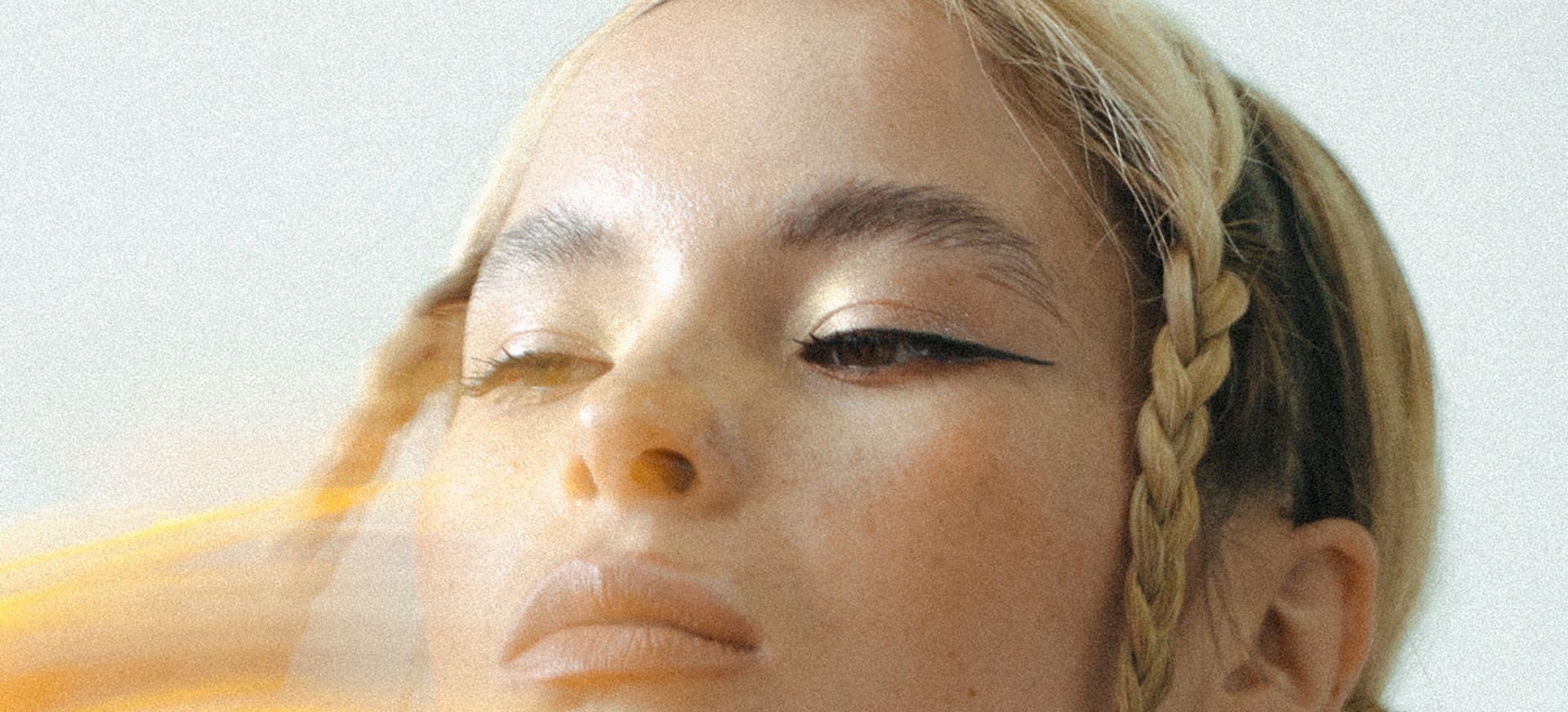 Saya Gray
It's a cliché to say that any given artist grew up in 'a musical household', but there is no other way to describe Saya Gray's early years. The otherworldly multi-instrumentalist, singer and songwriter was born and raised in Toronto, by her mother – an immigrant from Japan and father, a Scottish-Canadian musician and sound engineer, who played lead trumpet for the likes of Aretha Franklin, The Temptations and Jeff Beck.
"The level of musicianship I was raised around was fucked," Saya says with a laugh, "I'd wake up every day with people playing classical music from 8am to 11pm at night, I was just in the background like a sponge, soaking things up."
It's precisely that longstanding absorption of music as craft that has taken Saya to where she is now, forging off-kilter, lo-fi guitar lullabies which sound like they've been beamed from another planet. At age 2 she was learning piano, and through her childhood she and her brother would learn everything from trumpet, trombone, to saxophone – "we'd pick up any instrument we could get our hands on." She spent her pre-teens and teen years playing in bands around Toronto, followed by work as a session musician, playing at jazz festivals from the age of 14, performing at Jamaican Pentecostal churches, touring around the world as a bassist and musical director for international artists.
"I can play instruments better than I speak," she says – and so it makes sense that, through all of this time, she was always toying with writing her own music too. Which takes us to the present day: Saya Gray as an artist in her own right, signed to Dirty Hit and about to put out 19 Masters, a very special and dynamic debut body of work.
19 Masters is a reflection of her experiences so far, not least her long standing feeling of isolation. "Growing up, I spent a lot of time alone," she says, reminiscing on hiding away in that house full of musicians, "I was moving schools a lot – it was really hard to be mixed-race at that time in what was a very white area, my brother, my mom and I got bullied. So I just learned to hate myself. I dyed my hair blonde as soon as I could, because that was how I thought I was supposed to look."
That self-packaging became apparent in her time as a session musician, too, emphasised by the expectations of her as an Asian woman in the music industry. "There's a constant cycle of commercialising yourself and being malleable," she says, "You're playing for a country artist? Wear this. An emo artist? Dye your hair black. It's the most non-personified identity you have to take to be a session player – in fact, to be in the music industry at all. You have to package yourself to be the perfect thing that people want, and you're constantly being picked apart for how you look. And as a woman you're so isolated in that touring space."
And so 19 Masters gently rips apart those expectations, poking fun at a money-hungry industry with songs about leeches and imploring people to not "spit the green" on her. Saya amalgamates her experiences while letting her solitary nature echo through the record. There are diaristic voice notes from her time touring for other artists, with delicate vocals that drift and shapeshift like she's singing in your ear via her DIY recording set-ups on the road. There are song titles with often esoteric references to the days they were made (see: 'Pap Test'). "The whole thing is kind of an ode to my mental health, and questioning capitalism and packaging," she says, "Being packaged and processed for so long, and so you learn to normalise splitting yourself into different faces. And then you start fighting yourself."
The result is a record that is soft yet fierce and deeply introspective, with her unorthodox approach to songwriting, experimental nature, eccentric and vivid lyricism are what makes it so uniquely Saya. Although on first listen you might assume these are straightforward songs about relationships, Saya says they are primarily delving into her own mind, tracing avoidant patterns and learning to celebrate herself. This is manifest in the lyrics, with tracks like the staccato elegance of 'Saving Grace', which teases strange electronic distortion, ruminating on dark times and how someone checking in can bring you back to earth. On the sweet ripple of 'Empathy 4 Bethany' she unpacks constantly being on the move as a touring musician with avoidant habits ("I wanna run, but I've run out of places to run to"), and the fraught nature of falling in love when you are always having to leave.
These themes are also apparent in the nature of collaborators (there are little cameos from family and friends, including an intro in Japanese from her mother, and a trumpet solo from her dad). This is not to mention the key changes and even shifts in frequency – Saya plays live instruments like singing bowls, harp and koto bringing to life celestial sounds that are healing to the body, a restorative balm to all the fractured and fraught identities. The delicate, meandering warmth of 'WISH U PICKED ME' is again a reflection on self via glossy, gliding vocals – "It always is ourselves! It's talking about the ups and downs of a relationship, it sounds like a love song but it's ironic because it's looking back and wishing you had congratulated yourself more."
Much of Saya's music stems from her experiences of being a young woman of dual heritage so it was important that this was also reflected in her visuals, including the poised video for 'IF THERE'S NO SEAT IN THE SKY (WILL YOU FORGIVE ME???)' by Canadian-Chinese director, Jen Cheng . "The video and the album cover are full of cinematic references from that experience, and visually they're like simple, dystopian." says Saya.
For Saya, the number 19 represents the beginning and ending of a cycle, from 1 to 9. "Masters" are a musical term, but in using it here she's also tacitly nodding to "how fucked it is" that it is standard terminology in recording to speak of masters and slaves. And so 19 Masters takes us on Saya Gray's journey so far, fragmented and dreamlike, unafraid to be weird and uncomfortable and pick apart the expectations, quietly sticking to her own path. It is a record that is all the more beguiling, immersive and fascinating for it.